Empowering Women to Rediscover their Self-Belief through, Powerful & Timeless Boudoir Portraiture
Thank you for your Boudoir experience registration
We'll reach out to you soon.
You could jump the queue and book a call with us below?
Life keeps us busy and preoccupied, leaving us feeling like we've lost touch with who we are. You may find yourself caught up looking after others, with work or other commitments, and feel like a part of yourself has been lost along the way.
Because these distractions can feel like they define you, it's time to celebrate your uniqueness and sensuality, reconnect with yourself and rediscover the person you truly are.
At The True You Boudoir Experience, we understand your desire to reconnect with yourself. Our mission is to empower you, the hero of this story, to rediscover your self-belief through our powerful and timeless boudoir photography.
Taking the plunge into a boudoir experience takes courage, which is why we work hard to create a safe and supportive environment where you can feel comfortable and confident in celebrating the real you.
Start your journey in 3 easy steps …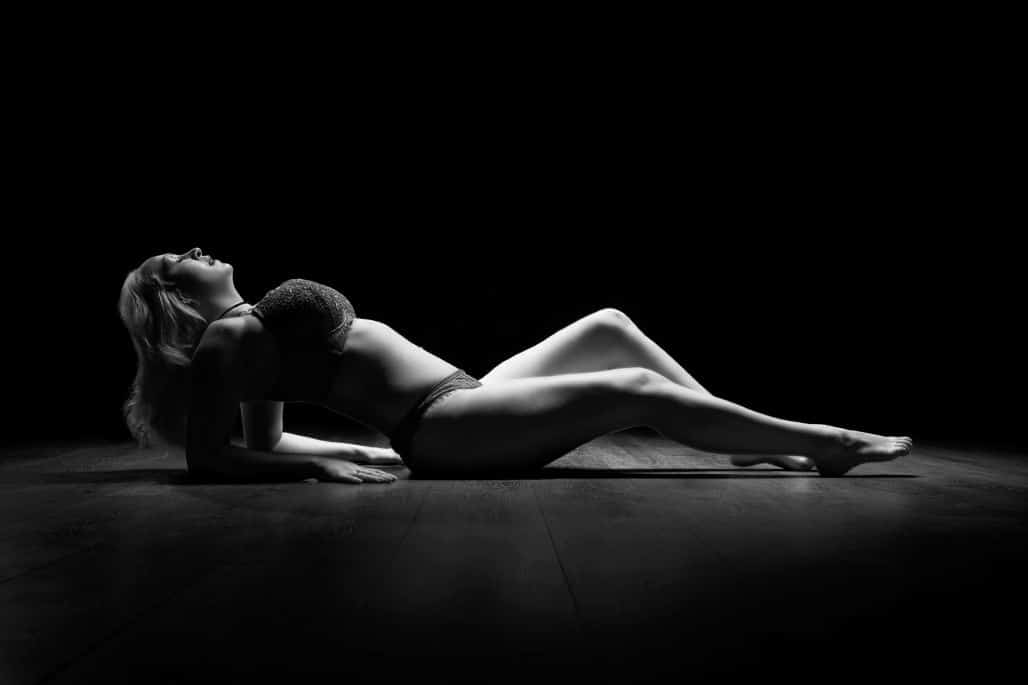 1. Discovery Chat
We will help you slow down, take a break from the daily grind, and take time to discover what you deserve from your boudoir portraits. 
We are dedicated to guiding you to create an experience that celebrates the true you.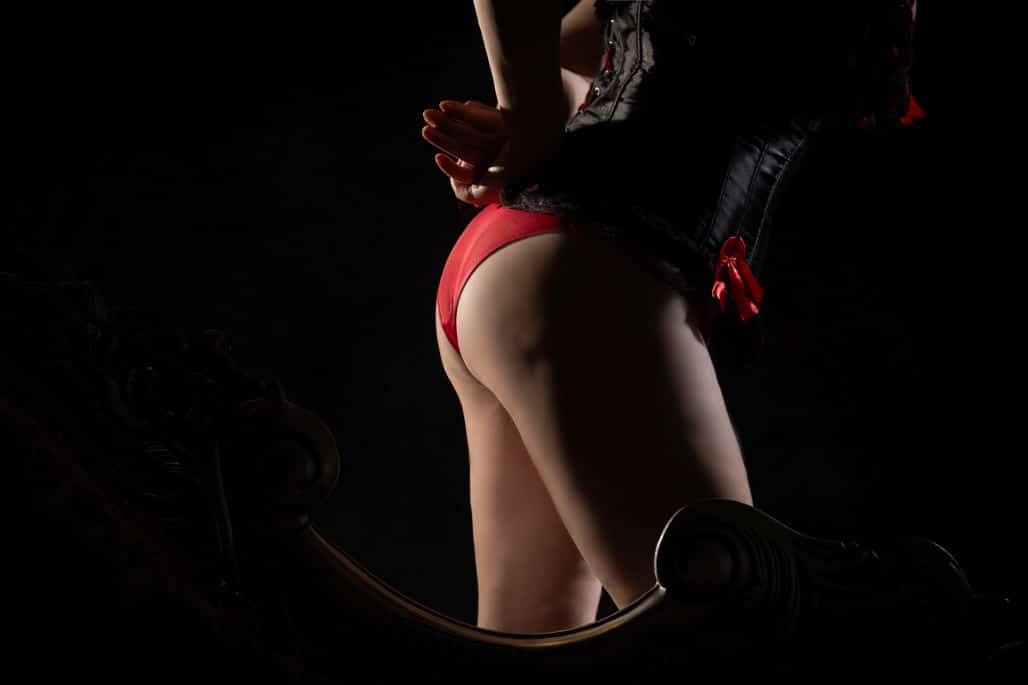 2. Boudoir Experience
This will bring out the best in you – your sassiness, fearlessness, beauty, and strength.
Expect the day to boost your confidence with professional make-up & styling,  lighting and easy poses to highlight the best of you.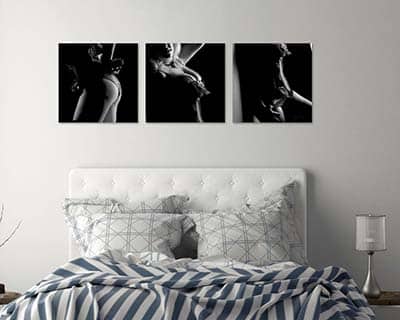 3. Artwork
Your finished artwork will be a constant reminder of how your boudoir shoot made you feel.
Start your day, every day, feeling the most empowered, confident and breath-taking version of yourself.
Feeling good about yourself is not a luxury. It's a necessity!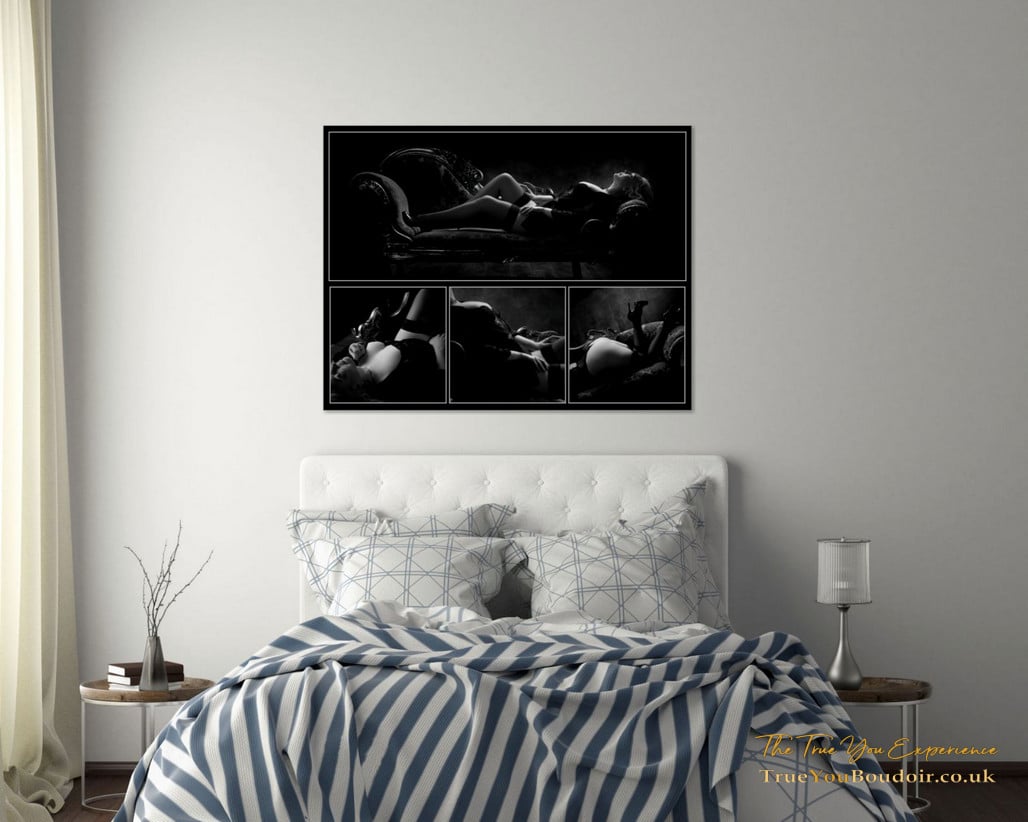 Artwork
Imagine how lovely it would be to wake up every morning and have a reminder of how your boudoir shoot made you feel.
Start the day, every day, feeling the most empowered, confident and breath-taking version of yourself. Feeling good about yourself is not a luxury.
Because you deserve the best,
it's an absolute necessity!
We work with you to design the perfect collections for your bedroom, lounge and office with beautiful artwork that can be displayed in any room in your home. You will always know that you are confident, empowered and ready to tackle anything.
Your artwork will remind you every day of how truly amazing you are.
This is the perfect chance to celebrate who you are and show yourself, and the world, that beauty is not limited to any age, shape or size.
Your True You Experience Session will Include;
❤️ Hair & Makeup by our professional Makeup Artist.
❤️ A one-hour Luxury Photographic Experience.
❤️ Outfit changes and advice.
❤️ £150 to spend on Artwork.
❤️ Personal stylist to help with posing.
❤️ Cinematic ordering session to select your favourite images and choose your home display.
Total experience value £250
Whatever stage of life you're in, we'd like to help you commemorate it by celebrating the sensual, powerful woman you are, even if you haven't uncovered her yet.💘
Hope to see you soon, x
question icon
FAQ
We regularly get asked the same questions.  So here they are.  Just contact us if you can't find your question here.
When should I book My Experience?
We have heard all the excuses for not having the experience, but honestly, we believe you should feel empowered at any time.  
JUST DO IT NOW!   
How far in advance should I book a Boudoir experience?
We advise booking at least 3-6 weeks to avoid disappointment.  This, also gives you plenty of time for shopping!
Would this make a good wedding gift for my partner?
A gift for your partner on your wedding day is trendy. 
Bridal Boudoir is an extraordinary occasion as you celebrate your love for your partner, but most importantly, you celebrate your love for yourself.
We advise booking at least 2-3 months before your special day to ensure your portraits are back in time.
How do I book?
The easiest way to book is to fill in the form or just call the studio and speak to Guy on 01292 321020
Is there a size limit?
Our studio welcomes ladies of all shapes and sizes, as each of you is unique and beautiful.
Is my hair and make-up included?
Yes, our professional Stylist and Make-up Artist can't wait to work with you.  They specialise in making you look and feel amazing. 
Can I do My own make-up and hair?
Yes, of course, you can, but make-up for photography is very different from what you usually wear daily.  That is why we have a professional make-up artist & hairstylist work with you to achieve your look.
Is there an age limit?
We do not have an upper age limit.  However, we only photograph clients over the age of 18 years old (anyone under the age of 21 will need to provide a photographic ID) 
What mobility is required?
Our studio is on the ground floor and wheelchair accessible.  We will work with you and your capabilities to achieve your desired outcome.  However, it would be best if you kept in mind that these portrait experiences can be a bit of a workout, as we will ask you to pose in ways designed to accentuate and celebrate your body.  However, we work at your pace and take breaks whenever needed.
Will my images be shared?
Your images are totally private and will not be shared without your permission.
Do I need my own outfits/lingerie?
Yes, this is one of the best parts as you shop for yourself!  We have found that women prefer to bring their own outfits as they know what they feel most comfortable in.
It's always best to bring along a selection of outfits, accessories, and shoes to suit your style. We have a limited supply of accessories – but not the full outfit
There are many options to choose from, including Bras and Bralettes, Knickers and Thongs, Bodies, Chemises, Corsets, Teddies, Stockings and hold-ups, and much more. 
Once you have booked, we will send you a guide to help you choose what works best for you.  Don't forget you can message us.
We are always happy to help and advise.
Can you help me dress?
Our stylist is on hand to help you dress if you require assistance. 
Is the photographer Male or Female?
Whilst we understand why some women need to know this, we do not consider this an issue.
Guy is a professional photographer and has captured many ladies over the years.  Our female stylist will always be present and help you pose and dress. 
As we work as a team, we see things differently, which gets you the best of both worlds. 
Where does the experience take place?
The majority of our experiences take place at our studio.  However, an outside location is also available.
Can I bring someone with me?
Yes, you may have a guest accompany you to your experience.
However, sometimes, having that extra pair of eyes on you can impact your confidence.  Please note that any guests attending will be seated in the waiting area during the shoot.  Just inform us beforehand so we can prepare for an extra person. 
Will you show me how to pose?
Our female stylist will be with you throughout the experience to show and guide you on how to pose and accentuate your beautiful body.
What if I'm very nervous before the shoot?
This is normal everybody is always a little nervous beforehand, which just adds to the excitement too!
We promise that you will feel more relaxed and confident once we have styled your hair and make-up.  Most ladies mention that after the first couple of clicks you forget that you are in lingerie and start to enjoy the whole experience.
When the shoot is over, you'll feel like a new woman, ready to take on the world.  
What Artwork do you offer?
Boudoir photography is a highly personal experience; everyone wants something unique. When you book your session, we'll give you more details on pricing for our treasure boxes, albums, wall art, and other products that suit you.
Our artwork options are designed to cater to your individual preferences and budget. Starting from £125 for mounted prints, £300 for wall art, £850 for treasure boxes and £1050 for albums, we offer a range of choices.
While there's no obligation to make a purchase, it's rare for anyone to resist their stunning artwork! We also offer flexible payment plans to make it more convenient for you.
We believe in delivering high-quality artwork tailored to YOU and your home. We understand the importance of creating something that will stand the test of time and make YOU feel incredible whenever YOU look at it. YOU deserve a piece of art reflecting your unique personality and making your space YOURS!
Can I spread the cost?
Yes, there are PayPlan options available.
Can I purchase digital images?
Yes, these are available as part of our collections.
Can I purchase gift vouchers?
Yes, we offer gift vouchers, just contact us.
How do I Travel to you?
The best way of travelling is by car.  Private parking is just outside our door.  Also easier than carrying luggage with you on public transport. 
However, If you are travelling by train, Milton Keynes or Leighton Buzzard stations are a short taxi ride away.
Are you LGBTQ+ Friendly?
We don't believe in labelling anyone.  We specialise in helping empower and bring self-confidence using traditional female lingerie and accessories.
Can I stay overnight somewhere?
Yes – Many places offer local accommodation.  Please get in touch for information. 
Why don't you make it part of a mini-break?